Living in Bay Harbor Islands, Florida
It's rare to find a place of tranquility within the hustle and bustle of Miami and Miami Beach, yet the town of Bay Harbor Islands achieves just that and sits only 20-30 minutes away from the heart of the city.
Founded in 1947, Bay Harbor Islands is a quaint and family oriented community. For most residents, day-to-day life centers around Ruth K Broad K-8, the A-rated public school, and the local businesses along the pedestrian friendly Kane Concourse.
The Broad Causeway connects the town to the mainland and barrier island towns of Surfside and Bal Harbour. Walking or biking to the beach or Bal Harbour Shops is quick and easy. Other than the drop-off and dismissal hours on school days, traffic is minimal and limited to 25mph on the local streets.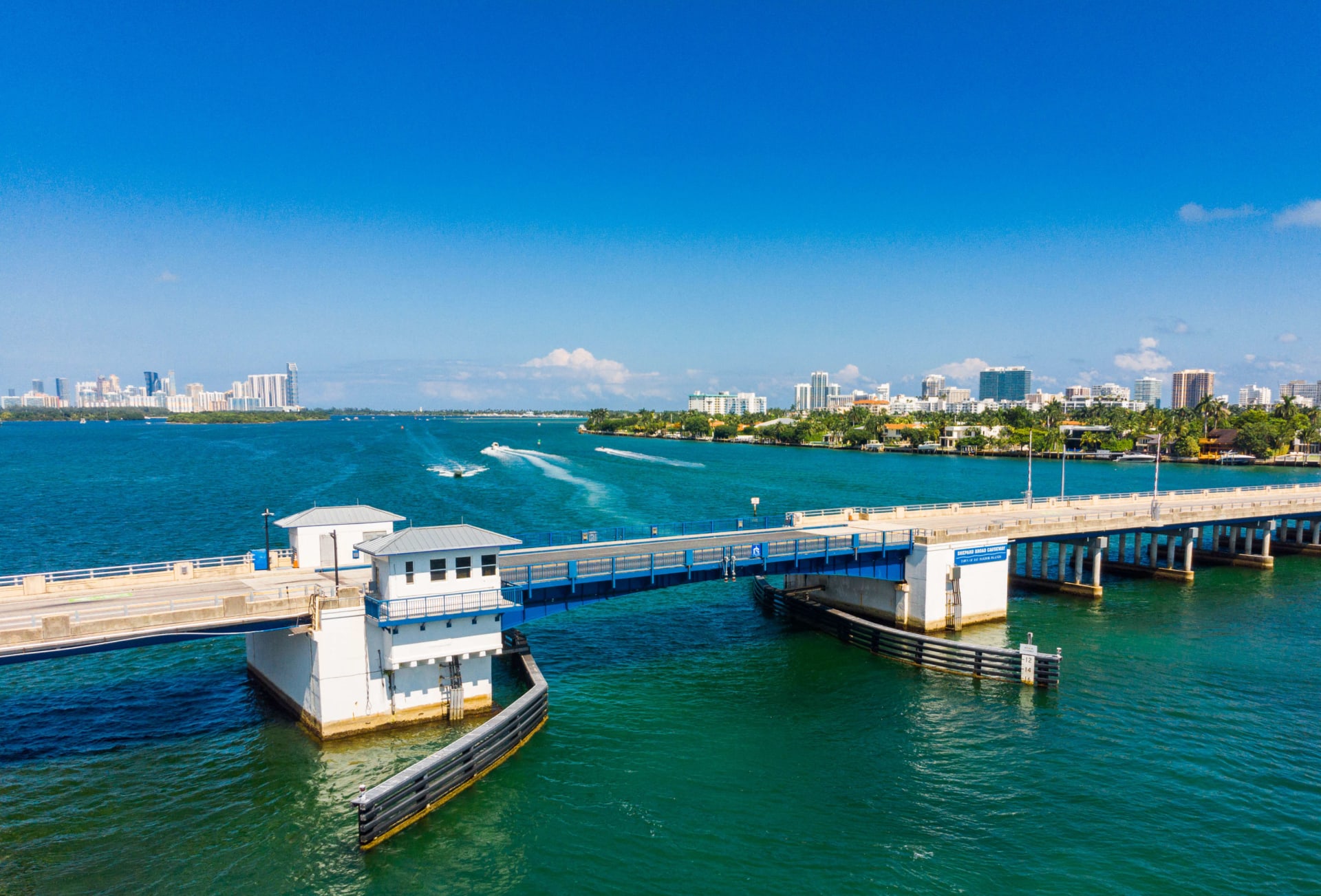 The city offers a number of public parks, including dedicated play areas for our four-legged friends. Bicycle lanes are plentiful and busy with residents and kids out and about or walking to and from school.
The total land area comprises 0.4 square miles split between two separate islands, namely West (Broadview) and East (Bay Harbor) Islands.
As with most of our barrier island communities, Bay Harbor Islands surges with snow birds and part time residents in the winter months and then it eases off in the summer.
It's easy to drive through this town and completely miss it, and that's precisely what makes it such a hidden treasure in Miami.
Planning a Move to Bay Harbor Islands? Search all Bay Harbor Islands real estate
Bay Harbor Islands Communities
The Town of Bay Harbor Islands is divided into two kidney shaped islands, namely Broadview or East Island, and Bay Harbor or West Island.
Broadview (West) Island
Broadview or West Island consists of approximately 280 single family residences of which approximately one-third are waterfront. The majority of these Bay Harbor Island homes were developed in the late 1940's, 1950's and 1960's.
Architectural styles are typical of Miami for that period ranging from Mediterranean Revival, Art Deco, to Miami Modern (MiMo). Local streets are wide, clean and offer ample street parking while traffic is minimal.
Over the past few years, there has been a trend to purchase older obsolete homes and build new ones at a higher base flood elevation. Since 2015, we have seen 24 estate sized homes each with over 6,000 square feet of living space come out of the ground and there are several currently under construction.
Waterfront homes offer a variety of bay, intracoastal or waterway views depending on their location. It ranges from waterway views between the East and West Islands to wide open bay on the northern and western sections. As with most waterfront real estate, homes with the widest and most open water views command the highest prices. Home prices and water views are highly correlated.
There are two public green spaces at the southern and northern ends of the island as well as the popular "Tot Lot" public park located on West Broadview Drive and 96th Street.
Broadview (West) Island homes for sale
Bay Harbor (East) Island
The East Island is the higher density residential (+/- 2800 residential units) and commercial zone with local shopping, restaurants, hotels, medical and office buildings, Ruth K Broad School campus, as well as city government and services.
Most of Bay Harbor Island's apartment buildings, condominiums and coops were developed in the 1950's and 1960's. However, over the past few years there has been a tremendous amount of redevelopment on the island. New condominiums such as The Palms and Bijou are now visible on practically every block and a number are in planning or under construction.
There is definitely demand for new housing stock in the area, but for many locals, this is an ongoing debate. Some locals are being priced out and forced to find more affordable options on the mainland.
On the flip side, higher income households are moving in and bringing additional tax dollars and spending to local businesses. And, of course, as density increases so does the cost of providing emergency and local services and it definitely brings more traffic.
While the East Island retains much of its original charm and quaintness, this clash between the low-rise original art deco or MiMo buildings and higher density new condominiums is evident. Also, with the (much needed) addition of the Grand Beach Hotel and the Altair condo hotel on the island, tourists are now able to enjoy the area as well.
Bay Harbor (East) Island homes for sale
Demographics
According to the most recent U.S. Census completed in 2020, Bay Harbor Islands has a population of 5,922 with 28 percent of residents under the age of 18 and 46 percent owner occupied household units.
As with many of the barrier island municipalities surrounding Bay Harbor, City Data indicates that serious or violent crimes are very low compared to the U.S. national average.
The median household income in Bay Harbor Island in 2019 was $83,990, which was 29.5% greater than the median annual income of $59,227 across the entire state of Florida.
Bay Harbor Islands Amenities
Dining
The most expensive restaurants in the area tend to be the steak houses and sushi restaurants. A big draw to the community is the proximity of Bay Harbor to Bal Harbour and Surfside, which opens up a plethora of shopping and restaurant options within walking distance.
Local Bay Harbor favorites range from The Palm at the Landon Hotel to latin cafe Coffee Break Enjoy, kosher Foozo pizza and Mestizo Gastro Fusion on the Kane Concourse.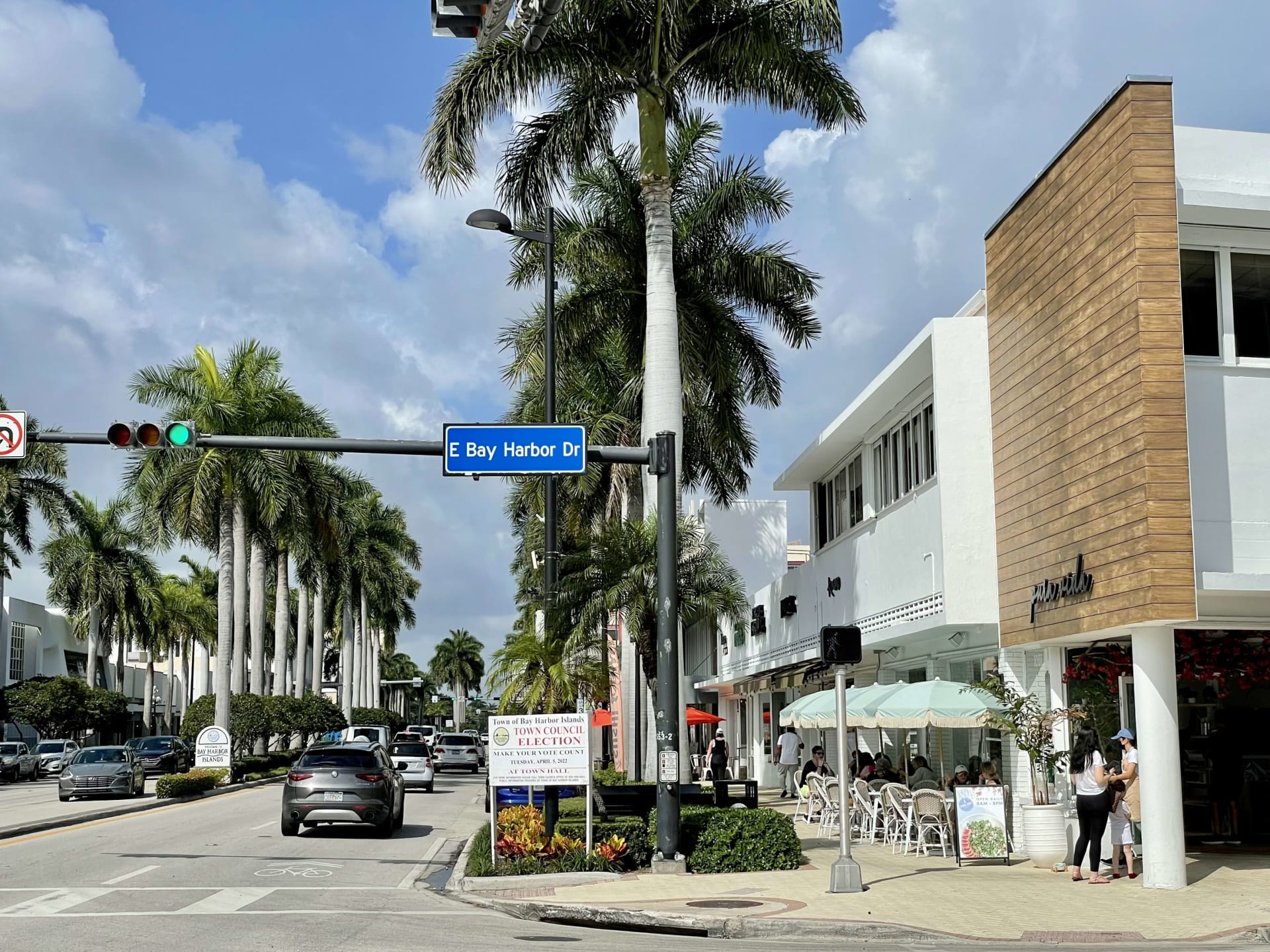 In nearby Bal Harbour Shops, the hugely popular establishments of Carpaccio, Le Zoo and Makoto continue to draw locals throughout the year.
Surfside hot spots including Sushi Republic, Flanigan's and the Fresh Carrot are also within a 10 to 15 minute walk of Bay Harbor Islands.
One should keep in mind that during Miami's high season months, in particular from December through April, to make reservations for our local restaurants as they tend to fill up early in the evening.
Shopping
Within Bay Harbor itself there are a few day spas, jewelers, independent retailers and service businesses along the Kane Concourse. However, the real magic lies in the Bal Harbour Shops that is within walking distance of the community.
As one of Miami's few open-air shopping centers, the Bal Harbour Shops is the world's most productive shopping center based on the sales per square foot. It is home to more than 100 of the world's most famous and most luxurious jewelry and fashion brands.
Since 2020, the shopping center has been undergoing a $550 million major expansion project that will double its size by adding an additional 250,000 square feet of retail space.
Bay Harbor Islands Parks & Recreation
For a small municipality, the town provides a variety of parks and recreation for residents and kids as well as two dedicated dog parks for our four-legged friends.
The Scott A Winters Park on 98th Street is popular for elementary and middle school kids that meet up and play on holidays or after school. There is an adjoining and separate doggie park for parents that are waiting for their children.
The community offers a variety of after school programs, winter, summer and day camps, yoga, tai chi as well as a tennis program for tots to seniors. Most of the local streets have bike lanes which is great for getting around quickly and safely.
One of the biggest attractions to living in the area is the nearby ocean, beautiful beaches and boardwalk. Although not yet fully complete, there is a paved boardwalk along the beach that one can walk, run or bike all the way from South Pointe Park in South Beach up to the Haulover Inlet in Bal Harbour (approx. 10 miles).
Locals love to check out the man made small reef off 96th Street that is approximately 100 feet in length and 15 feet wide that on a calm day is teeming with tropical and local fish.
Schools in Bay Harbor Islands
Ruth K Broad K-8 elementary and middle school - Miami Dade County Public Schools